Disclosure: This post may contain affiliate links, meaning we get a commission if you decide to make a purchase through our links, at no cost to you. Please read our disclosure for more info.
Last Updated on November 5, 2023 by Canny Costumes
When autumn arrives, it's time to bring out the pumpkins and get creative with your outdoor decor. With numerous pumpkin decorating ideas to choose from, we understand that it can be challenging to decide which ones to go for. That's why we've curated this list of 18 unique and eye-catching outdoor pumpkin decor ideas that will set your home apart this fall season.
1. Easy To Decorate Fall Outdoor Bench
A beautifully decorated outdoor bench can instantly transform your porch or garden into a cozy autumn retreat. Visit ohmy-creative.com for an easy-to-follow guide on how to create an inviting fall outdoor bench with pumpkins.
2. Stacked Pumpkin Planter
Looking for a unique way to display your pumpkins? Positively Splendid offers a guide on creating a stacked pumpkin planter that's sure to catch the eye of passersby. Visit positivelysplendid.com for instructions.
3. Fall Decorating Outdoors
A Cultivated Nest has a plethora of outdoor fall decorating ideas to choose from. Find inspiration for your porch, garden, and more at acultivatednest.com.
4. Fall Outdoor Decor
Get ready for the autumn season with hymnsandverses.com's fall outdoor decor suggestions. Discover how to create a warm and welcoming atmosphere at hymnsandverses.com.
5. Fall Harvest Porch Decor With Reclaimed Wood Sign
Serendipity Refined provides a creative approach to fall porch decor. Learn how to incorporate reclaimed wood into your design and welcome the harvest season in style. Visit serendipityrefined.com for details.
6. It's Fall Party By Petite Social With Printables
Love the Day offers a fantastic guide to throwing an autumn-themed party. Get your outdoor space ready for a fall gathering with helpful printables. Learn more at love-the-day.com.
7. Fall Refresh Outdoor Fall Decor
Julie Blanner shares tips for refreshing your outdoor decor for fall. Discover how to make subtle yet effective changes to your outdoor space at julieblanner.com.
8. Decorating The Back Front Porch For Fall
Unskinny Boppy provides inspiration for decorating both the back and front porch for the fall season. Learn how to create a cozy atmosphere for your outdoor spaces at unskinnyboppy.com.
9. Outdoor Fall Decor
Explore creative outdoor fall decor ideas at The Country Chic Cottage. Transform your porch and garden into a beautiful autumn oasis with guidance from thecountrychiccottage.net.
10. Neutral Fall Porch
Taryn Whiteaker's blog offers ideas for creating a neutral fall porch. Learn how to use a muted color palette to achieve a sophisticated and stylish look. Find inspiration at tarynwhiteaker.com.
11. Huge Front Porch Welcome Sign
Make a bold statement with a huge front porch welcome sign. The Wood Grain Cottage provides a step-by-step guide to create this eye-catching decor piece. Visit thewoodgraincottage.com for instructions.
12. How To Make A Fall Fairy Garden
Explore the enchanting world of fall fairy gardens at Tatertots and Jello. Learn how to create a miniature masterpiece in your outdoor space. Get started at tatertotsandjello.com.
13. Budget Fall Decorating Ideas For The Front Door
Thistlewood Farms offers budget-friendly fall decorating ideas for your front door. Find creative ways to make your home stand out without breaking the bank. Discover more at thistlewoodfarms.com.
14. Fall On The Porch
House of Hawthornes provides inspiration for a cozy fall porch. Discover how to infuse warmth and charm into your outdoor space. Visit houseofhawthornes.com for details.
15. Fall Porch
Theyellowcapecod.com showcases a beautiful fall porch with a coastal twist. Get inspired to create a unique fall look for your outdoor space. Find out more at theyellowcapecod.com.
16. Halloween Themed Door Mat
Add a spooky touch to your front porch with a Halloween-themed door mat. Jojotastic provides creative ideas for making your porch look festive and fun. Discover more at jojotastic.com.
17. Fall On The Front Porch
Stonegable Blog offers insights into creating a captivating fall porch. Learn how to use simple yet effective decor to welcome the autumn season. Visit stonegableblog.com for ideas.
18. DIY Outdoor Real Looking Pumpkins
The Stony Brook House presents a guide on creating realistic-looking outdoor pumpkins. Learn how to craft pumpkins that can withstand the elements and enhance your outdoor decor. Find instructions at thestonybrookhouse.com.
Incorporating these fantastic outdoor pumpkin decor ideas will not only elevate your home's curb appeal but also bring the essence of autumn to your doorstep. Whether you prefer a classic look, a rustic vibe, or something entirely unique, there's something here for everyone. Get started on your fall decorating journey today and make your outdoor space truly shine this season.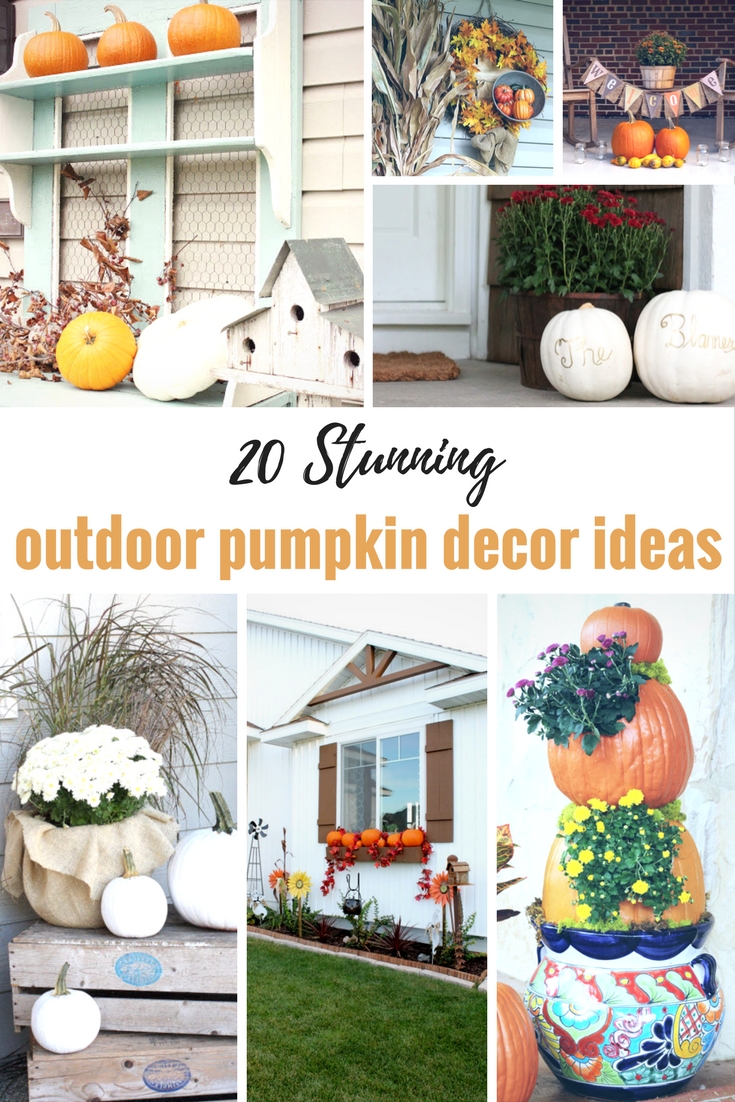 Disclaimer: This article provides a curated list of outdoor pumpkin decor ideas from various sources. The original ideas and instructions are available on the respective websites mentioned above. Please refer to the linked sources for more detailed information on each decor idea.