Disclosure: This post may contain affiliate links, meaning we get a commission if you decide to make a purchase through our links, at no cost to you. Please read our disclosure for more info.
Last Updated on November 10, 2022 by Canny Costumes
Can you guess what the most popular video game costume will be for 2021?
Well our guess is AMONG US! This game was everywhere during the pandemic and popular among both kids and adults. It makes a perfect Halloween costume for a few reasons – it's easy to wear, not a lot of annoying accessories, comfortable for both kids and adults, colorful and best of all you won't freeze in this costume. If you live in a place where October 31st is rainy, cloudy and cold, you know what I am talking about!
If you don't already know what Among Us is, well here is your brief introduction. Among Us is a popular computer or phone multi-player game. You are assigned a character and one of them is the Imposter. Characters have to complete tasks on a spaceship and avoid getting "killed" by the imposter who tries to hide among plain sight. The goal is to identify the imposter before the game ends.
Is There an Among Us Halloween Costume?
The characters are colorful blob type aliens and lend themselves to fun and colorful costumes. Here is our round-up of best places to buy a simple and affordable Among Us Halloween Costumes.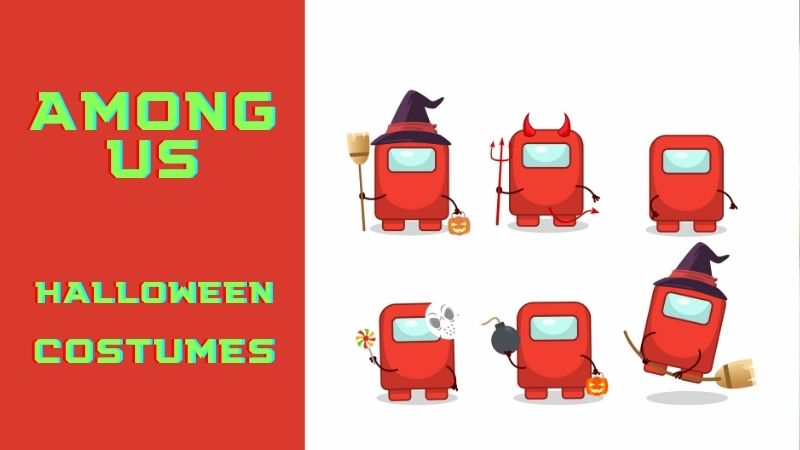 Buy Now Pay Later your Among Us Halloween Costume at these stores.
Overall Best Among Us Costumes for Kids
This one we found on Amazon is great! Easy to put on, comes in all the color options and has sizes for kids. You get the full alien body suit, head piece with eyeview. We also loved the simpler options on Etsy, just get a fun Among Us inspired t-shirt or hoodie and add some matching pants or leggings for the alien look.

Best Among Us Costumes for Groups & Couples
Amazon has some great options like these with all the color combinations. Or you can go on Etsy and get some fun Among Us T-shirts for a simple DYI version. You and your partner can just pick your favorite color or you can do a whole group ensemble with all the shades of alien suit colors.
Best Inflatable Among Us Costumes
Looking to make a statement with your Among Us costume? Well nothing goes bigger and crazier than a blow-up inflatable version. This one is pretty cool!
How Do You Make an Easy Among Us Costume?
A cool idea is this paper pattern to make an Among Us imposter paper mask. You could also compile your own costume using a space mask from other Halloween costume stores.
Ideas for DIY Among Us Party Ideas
Ready to throw an epic Among Us themed party IRL? Check out this great set of ideas from YouTube.