Disclosure: This post may contain affiliate links, meaning we get a commission if you decide to make a purchase through our links, at no cost to you. Please read our disclosure for more info.
Last Updated on November 6, 2023 by Canny Costumes
If you're among the people looking for Halloween costumes who want something truly unique and edgy this year, you're in for a treat. Forget the ghosts and witches; it's time to unleash your inner wasteland warrior with Mad Max costumes! In this article, we'll delve into the world of Mad Max-inspired outfits, guiding you through the basics, accessories, and even DIY tips. Let's rev up the engines and dive into the post-apocalyptic madness!
Introduction to Mad Max Costumes
Mad Max, the iconic film franchise, has captivated audiences for decades with its gritty post-apocalyptic world and unforgettable characters. The costumes from this series are a perfect choice for Halloween, providing a unique and visually striking alternative to the usual spooky fare.
The Iconic Max Rockatansky Look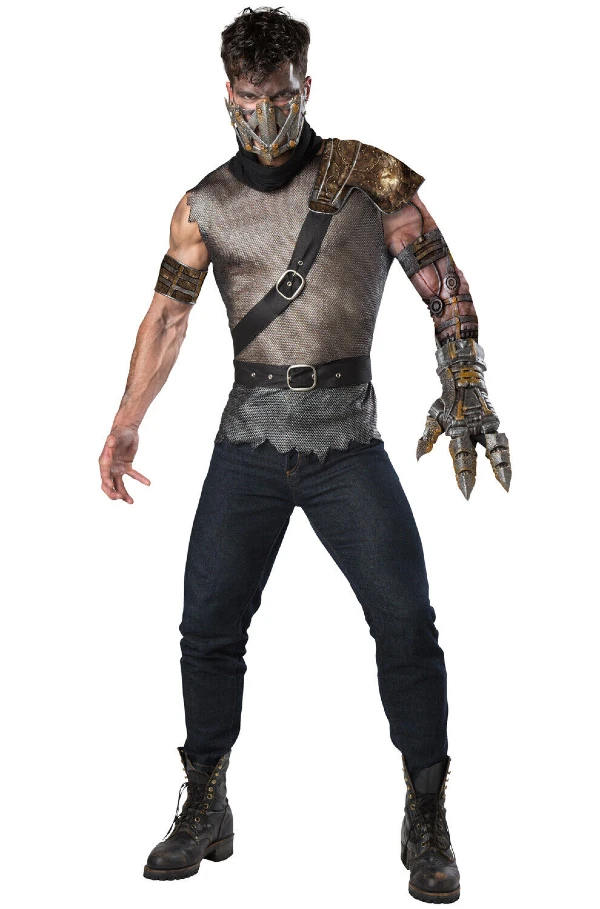 The Leather Jacket: Channeling the Road Warrior
Max Rockatansky, played by Mel Gibson in the original films, is the quintessential Mad Max character. His rugged style begins with a black leather jacket, symbolizing the toughness of the wasteland.
The Knee Pads: Ready for Action
Max's knee pads aren't just for show. They're a symbol of his readiness for action in the unforgiving desert. These can be found in most costume stores and online.
Furiosa: The Fierce Warrior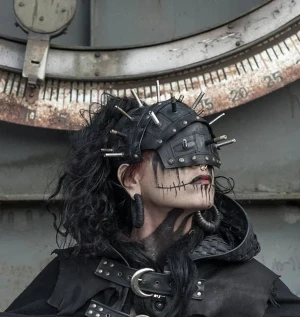 The Mechanical Arm: A Warrior's Signature
Furiosa, portrayed by Charlize Theron, brought a new dimension to the Mad Max universe. Her mechanical arm is a defining feature, showcasing her strength and resilience.
And also for you Mad Max fans, Furiosa has her own movie coming in 2024!
Shaved Head: The Bold Choice
To truly embody Furiosa, consider shaving your head or using a bald cap. It's a bold choice that'll make you instantly recognizable.
Immortan Joe's Distinctive Style
The Mask: The Face of Tyranny
Immortan Joe's intimidating presence is incomplete without his breathing mask. This accessory is crucial for nailing the look of this iconic antagonist.
White Hair and Body Paint: The Final Touches
To go the extra mile as Immortan Joe, white hair spray and body paint are essential. These details will elevate your costume to the next level.
Accessories that Complete the Look
Fingerless Gloves: Tough and Stylish
Fingerless gloves are a versatile accessory that works well with various Mad Max costume variations. They add a touch of toughness to any outfit.
Prop Weapons: Embrace the Chaos
Replica weapons like crossbows, chainsaws, and makeshift spears are excellent additions to your Mad Max costume, adding an authentic touch of chaos.
DIY Mad Max Costume Ideas
Scavenger Chic: Creating a Budget-Friendly Outfit
If you're on a budget, don't fret. You can create a convincing Mad Max look using old clothes, some scissors, and a bit of creativity. Scuff up your clothing and add some dirt for that authentic wasteland touch.
Where to Buy Mad Max Costumes
Online Retailers: A Treasure Trove
Numerous online retailers offer a wide range of Mad Max costumes and accessories. Amazon, eBay, and specialized costume shops are your go-to sources.
Making an Entrance: Halloween Party Tips
Strut Your Stuff: Confidence is Key
When you step into the Halloween party as a Mad Max character, walk with confidence. Embrace your character and immerse yourself in the wasteland world.
Conclusion: Unleash Your Inner Road Warrior
Mad Max costumes offer a thrilling departure from the usual Halloween fare. Whether you choose to don Max's leather jacket, Furiosa's fierce attitude, or Immortan Joe's tyranny, you're sure to make a lasting impression. So, this Halloween, unleash your inner road warrior and dive into the post-apocalyptic madness.
Where can I find Mad Max costume inspiration?
Look no further than the Mad Max films themselves. Study the characters and their outfits for inspiration. You can also find costume ideas on social media and costume forums.
Can I customize my Mad Max costume?
Absolutely! Mad Max costumes are all about individuality. Feel free to add your own personal touches and modifications to make it unique.
Are Mad Max costumes suitable for kids?
While some Mad Max costumes can be adapted for kids, the post-apocalyptic theme may not be suitable for very young children. Always consider age-appropriateness.
Can I wear a Mad Max costume for events other than Halloween?
Of course! Mad Max costumes are versatile and can be worn to conventions, costume parties, and even movie screenings. They're a great way to showcase your fandom.
Are Mad Max costumes comfortable to wear for extended periods?
Comfort levels vary depending on the costume and accessories you choose. It's a good idea to try on your costume beforehand to ensure it's comfortable for long wear.
In conclusion, Mad Max costumes offer a unique and thrilling way to stand out on Halloween. Whether you choose to emulate Max, Furiosa, or Immortan Joe, you're sure to turn heads and make a lasting impression in the post-apocalyptic wasteland of your Halloween party. So, gear up, hit the road, and let your inner road warrior shine!