Disclosure: This post may contain affiliate links, meaning we get a commission if you decide to make a purchase through our links, at no cost to you. Please read our disclosure for more info.
Last Updated on November 13, 2023 by Canny Costumes
Introduction: A Love Story Fit for Folklore
Every couple dreams of a wedding that stands out from the rest—a celebration of love that captures the imagination and leaves a lasting impression. Imagine saying "I do" surrounded by the enchanting ambiance of Sherwood Forest or exchanging vows in a castle reminiscent of the one where Robin Hood once roamed. A Robin Hood wedding is not just a themed event; it's an opportunity to immerse yourself in the timeless tale of two hearts beating as one.
Why Choose a Robin Hood Wedding?
Choosing a Robin Hood wedding theme allows you to infuse your special day with a sense of adventure, camaraderie, and romance. This theme goes beyond dressing in period costumes; it encompasses the values of loyalty, justice, and defying the odds for love. Your wedding will become a story worth retelling for generations to come.
Embracing the Robin Hood Theme: Ideas and Inspiration
1. Venue Fit for Outlaws
Make the most of your Robin Hood wedding by selecting a venue that evokes the spirit of the legend. Consider hosting your nuptials in a castle, a rustic barn in the woods, or a charming woodland clearing surrounded by towering trees.
2. Archery Adventure
Engage your guests with a thrilling archery activity, just like Robin Hood and his Merry Men. Allow your loved ones to experience the joy of hitting bullseyes and creating unforgettable memories.
3. Maid Marian's Bouquet
Inspire the bride's bouquet with flowers and foliage that Maid Marian herself might have carried. Include elements like wildflowers, berries, and earthy tones to embody her free-spirited nature.
4. Sherwood Forest Feast
Treat your guests to a lavish medieval feast with dishes reminiscent of the feasts held in Sherwood Forest. Roasted meats, hearty stews, and artisanal bread will transport everyone to another era.
5. Merry Music and Dance
Curate a playlist of lively folk music and encourage your guests to dance the night away. Incorporate traditional English folk dances like the Maypole dance to add authenticity to the festivities.
Finding Your Perfect Attire
6. Regal Robin Hood
The groom can embrace the legendary outlaw's style with a tunic, trousers, and a feathered cap. A bow and quiver add the perfect finishing touch.
The bride can channel Maid Marian's elegance with a flowing gown, bohemian accessories, and a crown of flowers atop her head.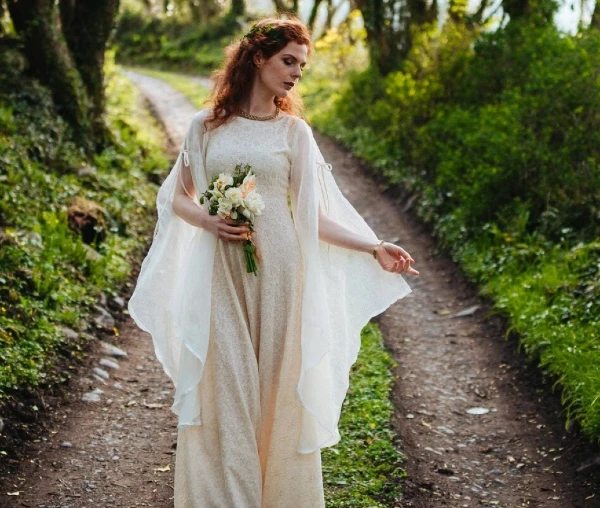 8. Dashing Merry Men and Beautiful Bridesmaids
The wedding party can join the fun with attire that pays homage to Robin Hood's Merry Men and Maid Marian's loyal companions.
Planning the Perfect Ceremony
9. The Promise Under the Oak Tree
Exchange vows under a magnificent oak tree, symbolizing strength, endurance, and a love that stands the test of time.
10. Handfasting Ritual
Incorporate a handfasting ceremony into your vows, a tradition symbolizing the binding of two souls together.
11. Giving of the Rings
Present your rings in a traditional wooden box, reminiscent of the treasure chests hidden in Sherwood Forest.
12. Reciting Ballads and Vows
Infuse your ceremony with the recital of romantic ballads or vows written in the style of medieval poetry.
Delectable Robin Hood Wedding Cakes
13. Forest-Inspired Cake
Opt for a cake adorned with intricate edible leaves, flowers, and forest animals to add a touch of woodland magic to your dessert.
14. Bow and Arrow Cake Topper
Top your cake with a miniature bow and arrow, symbolizing the journey of love that led you both to this special day.
15. Maid Marian's Berry Delight
Incorporate fresh berries into your cake design as a nod to Maid Marian's love for the bounties of nature.
Invitations Worthy of a Royal Proclamation
16. Wax Seal Elegance
Seal your invitations with wax, stamped with the emblem of a bow and arrow, or your initials entwined.
Send out your invitations as parchment scrolls, evoking a sense of ancient times when letters were treasured.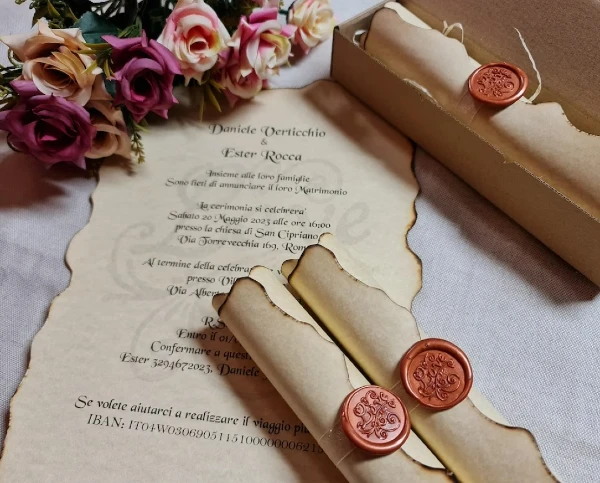 18. Robin Hood's Map
Design your invitations as a map, guiding your guests to the venue as if they were embarking on an adventurous quest.
Capturing the Memories: Photography and Videography
19. Candid Moments
Have your photographers capture candid moments that reflect the love, laughter, and joy of the day.
20. A Cinematic Story
Enlist a videographer to create a cinematic wedding video that tells the tale of your love and the celebration that followed.
21. Themed Photoshoot
Arrange a photoshoot in the heart of nature, with you and your beloved dressed as the iconic couple—Robin Hood and Maid Marian.
Favors and Keepsakes
22. Archery Contest Tokens
Gift your guests with small bow and arrow trinkets, reminding them of the archery contest where Robin Hood won Maid Marian's heart.
23. Sherwood Forest Seeds
Give away packets of seeds from the Sherwood Forest, encouraging your guests to plant love and watch it grow.
24. Quaint Wooden Keepsakes
Offer personalized wooden keepsakes engraved with your names and wedding date, symbolizing the everlasting nature of your love.
Can I have a Robin Hood wedding without going full medieval?
Yes! You can incorporate subtle nods to the theme through decor, invitations, and attire while maintaining a modern touch.
Where can I find suitable venues for a Robin Hood wedding?
Look for castles, rustic barns, or woodland venues that allow you to create the desired ambiance.
What type of entertainment can I have at my Robin Hood wedding?
Consider archery, folk music, and traditional dances for an authentic experience.
Is a Robin Hood wedding suitable for large guest lists?
Absolutely! The theme allows for a fun and inclusive celebration for guests of all ages.
How can I make my wedding attire stand out while staying true to the theme?
Opt for custom-made outfits that blend medieval elements with modern fashion.
Can we hire actors to play Robin Hood and Maid Marian?
Yes, hiring actors can add a theatrical element to your wedding, making it an unforgettable experience.
Conclusion: Creating Your Fairy Tale Ending
A Robin Hood wedding is an opportunity to weave your own love story into a timeless legend. By embracing the spirit of these legendary outlaws, you'll create a wedding that is both unique and unforgettable. From enchanting venues and regal attire to traditional ceremonies and rustic feasts, every aspect of your celebration will be infused with the magic of Sherwood Forest. As you embark on this adventure together, remember that love knows no bounds, and with Robin Hood and Maid Marian as your inspiration, your happily ever after is sure to be legendary.