Disclosure: This post may contain affiliate links, meaning we get a commission if you decide to make a purchase through our links, at no cost to you. Please read our disclosure for more info.
Last Updated on September 25, 2023 by Canny Costumes
Cocktail hour can be a tall order. The dress code calls for elegance, but nothing too formal. Navigating this is a delicate art, so heading into your hunt for the perfect cocktail dress should be done with a healthy dose of style inspiration on your side. Consider these cocktail party outfit ideas to feel your most glamorous and confident at your next occasion…
Decoding Cocktail Party Attire
Cocktail party attire strikes a balance between formal and casual, creating an atmosphere of sophistication and ease. Here's a breakdown of the key elements:
The Elegant Cocktail Dress
Ladies, your go-to outfit is the classic cocktail dress. Aim for a knee-length or slightly above style, and consider timeless colors like black, navy, or deep burgundy. The goal is understated elegance.
The Magic of Accessories
Accessories can transform your look from ordinary to extraordinary. Think statement earrings, a chic clutch bag, and stylish heels to complete your ensemble. Remember, it's the details that count.
Fabrics That Dazzle
Fabric choice is paramount. Silks, satins, and chiffons not only feel luxurious but also look the part. Opt for materials that drape gracefully and feel comfortable against your skin.
Cocktail Cut Outs
Look for a playful piece cut in a dynamic silhouette for a modern take on cocktail dressing. Cut-outs are a beautiful component that really highlights your form and creates a striking impression no matter what style you opt for. Contrast the demure feel of lace with bold waist cut out accents or look for an asymmetrical neckline with a one-shoulder structure and splicing neckline cut out for a bold look suited to after-dark elegance. Choose a pop tone such as emerald, lilac or bright red to really let the statement feel of this piece shine.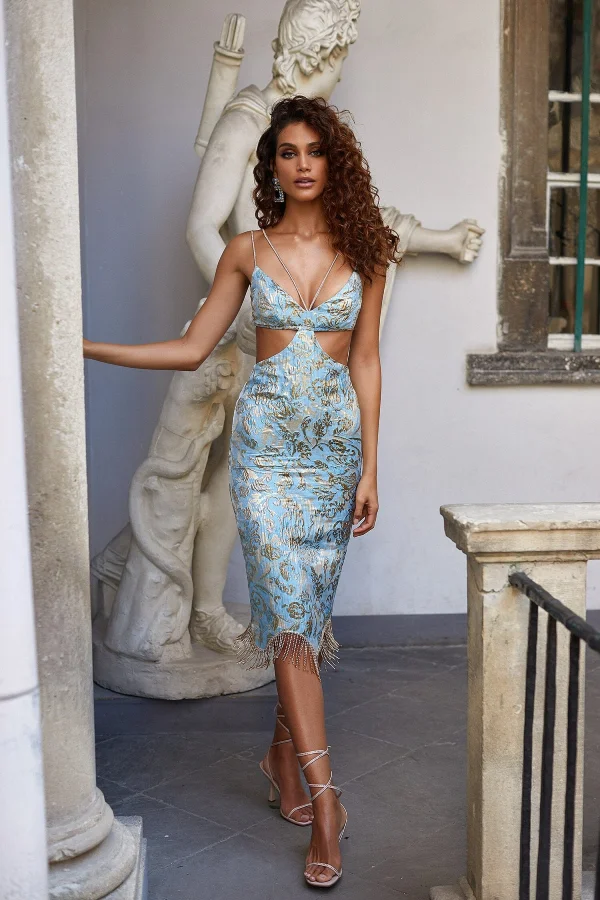 Feathered Flourishes
A feathered accent here and then can take even the most minimal of dress structures and bring a sense of feminine freedom. Look for a midi dress with a sweetheart neckline and figure tracing fit finished with floating hem feathers for an effervescent cocktail look that is sure to stand out from the crowd. If you're craving something a little bolder, gravitate towards a striking mini dress decorated with a full, feathered skirt. This is a unique, fun piece that fits the mood of a cocktail hour perfectly.
Beautifully Beaded
If you're looking for a party dress that you're going to shine in, then look no further than a beaded piece for your next cocktail hour. A simple dress embellished with dainty jewels, crystals, beads or sequins will exude a dressed up elegance formal enough for nighttime. Be sure to stay on the conservative side with your final touches, opt for a minimalist leather clutch bag, wrap up strappy heels and subtle metallic jewellery for an ensemble that strikes the perfect balance between statement and chic.
Make It Minimal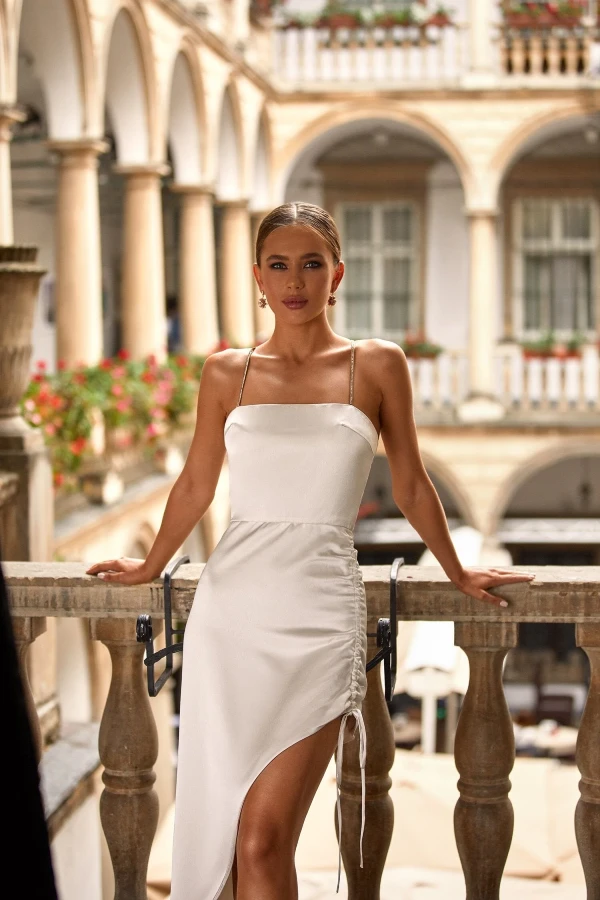 An ideal combination of sweet and slinky, a spaghetti strap slip dress cut from a smooth satin is just the thing if you're searching for a timeless addition to your eveningwear wardrobe that you can restyle and wear over and over again. For the ultimate classic piece, choose a slip dress in a complimentary neutral hue that you know you'll enjoy styling for countless magical evenings to come.
A few great options include soft beige, white, cream, champagne, navy and of course black. Your accessories and adornments are what will really enliven your minimalist silhouette so prepare to have fun with all of your flourishes to reimagine this piece perfectly. For those who prefer a strong and simple look, pull your hair back, add a few pieces of delicate gold jewellery and step into a matching pair of heels for a refined, chic look that blends with any occasion.
Frequently Asked Questions
Can I Wear a Long Dress to a Cocktail Party?
Absolutely, if the event's formality permits, a tasteful full-length gown can be a showstopper.
Are Cocktail Parties Always Formal?
Not Necessarily. Cocktail parties can range from Semi-formal to casual, so it's crucial to check the dress code.
Can I Wear Jeans to a Cocktail Party?
In Most Cases, Jeans Are Too Casual for a Cocktail Party. Opt for More Formal Attire to Blend in with the Ambiance.
What Accessories Should I Avoid at a Cocktail Party?
Avoid Flashy or Noisy Accessories That Might Disrupt the Conversation and Ambiance.
Can I Wear Bright Colors to a Cocktail Party?
While Standing Out Is Essential, Consider Classic, Muted Colors for a Timeless and Elegant Look.
Conclusion
In conclusion, dressing for a cocktail party is an art that involves combining elegance with personal style. Accessorize thoughtfully, choose quality fabrics, and ensure a perfect fit. By following these guidelines, you'll be ready to make a lasting impression at any cocktail party. Remember, your attire should reflect your unique personality while respecting the event's dress code. With the right outfit, you'll not only look your best but also feel confident and ready to socialize.
Which of these cocktail party outfit ideas will you put into practice?