Disclosure: This post may contain affiliate links, meaning we get a commission if you decide to make a purchase through our links, at no cost to you. Please read our disclosure for more info.
Last Updated on December 23, 2022 by Canny Costumes
A zombie bride costume is a popular choice for Halloween, and it's not difficult to see why. These costumes are both creepy and stylish, and they can be easily customized to fit your personal taste. They also pair excellently with a Zombie Groom.
For Women | For Kids | For Men | Plus Size Zombie Bride
How Do You Make a Zombie Bride?
You'll need a few key ingredients to make a zombie bride. First, start with a white dress. If you don't have a wedding dress lying around, any white gown will do. Next, add some zombie-like facial features. You can use face paint or special effects makeup to create bruises, cuts, and scabs. For an extra ghoulish touch, try adding fake blood or contact lenses that make your eyes look zombie-like. Finally, don't forget the accessories! A veil, some zombie-themed jewelry, and undead-looking flowers will complete the look. With these essential elements, you'll be ready to walk down the aisle…or lurch down the aisle, rather!
How Do You Zombify a Wedding Dress?
If you're looking to create a zombie bride costume for Halloween or another event, there are a few things you'll need. First, start with a white wedding dress. You can either use an old dress or purchase one second-hand. Next, add some ripped lace or tulle to create an eerie, shredded look. To complete the zombie bride look, add some fake blood and smudged makeup.
How Do You Do Easy Zombie Makeup?
Zombie makeup is easy to do at home with some simple supplies. You will need: foundation, eyeshadow, lipstick, fake blood, and a black pencil or liquid liner. First, apply foundation all over the face to even out skin tone. Next, use black pencil or liquid liner to create zombie-like circles around the eyes. Add eyeshadow in a dark shade to contour the eyes. Finally, apply fake blood around the mouth and on the cheeks for a ghoulish look.
How Do You Make a Corpse Bride Veil?
If you're looking to create your own zombie bride costume, one key element is the veil. While you could simply purchase a veil from a costume shop, it's also easy to make your own. To do this, you'll need a length of tulle, some wire, and some hot glue. First, cut the tulle into a long strip that will reach from your head down to your waist. Next, use the wire to create a circlet that will fit snugly around your head. Then, drape the tulle over the circlet so that it hangs down in front of your face. Finally, use hot glue to attach the tulle to the circlet in several places. And that's all there is to it!
Zombie Bride Costumes for Women
Zombie Bride Costumes for Kids
Plus Size Zombie Bride Costume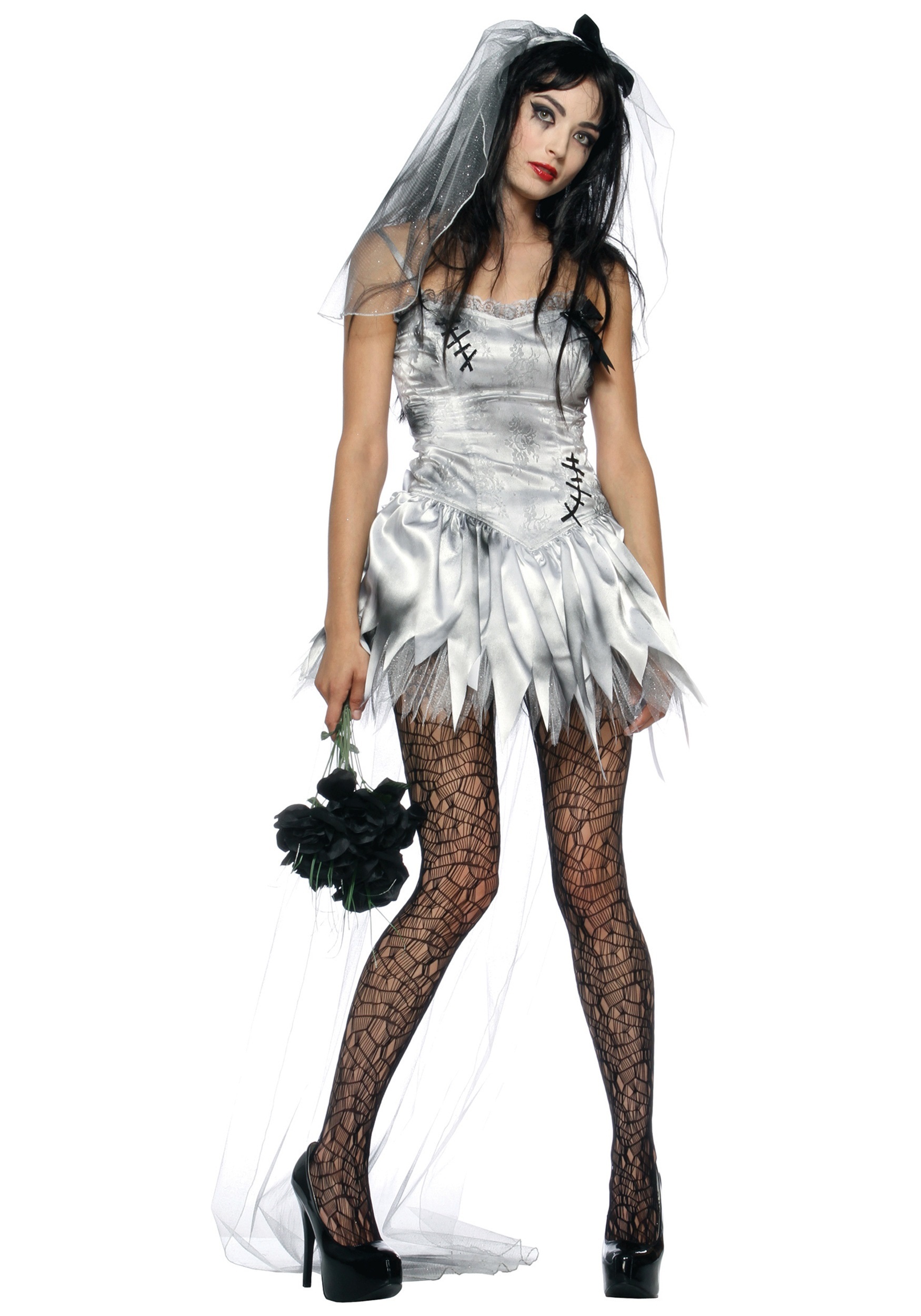 Zombie Groom Costumes