Disclosure: This post may contain affiliate links, meaning we get a commission if you decide to make a purchase through our links, at no cost to you. Please read our disclosure for more info.
Last Updated on December 30, 2022 by Canny Costumes
He-Man is the perfect Halloween costume for anyone who wants to feel like the most powerful man in the universe. If you really want to become the masters of the universe by pairing up with She-Ra. The costume is simple but iconic, and it's easy to put together with just a few items. Make it a group costume and add the villain Skeletor!
For Men | For Kids | He-Man Accessories | Skeletor
How Do You Dress as He-Man?
Firstly, if you don't care to be shirtless, you'll need a muscle shirt or tank top to show off your He-Man-like physique. Next, add a pair of short shorts or knee-length leggings. He-Man's boots are another key part of the look, so make sure to find a pair that reaches up to your knees. Finally, don't forget the He-Man sword!
How Do You Make He-Man Boots?
The first step is to find a pair of tall, black boots that fit well. Second, measure out two strips of brown fur fabric, making sure they are long enough to wrap around the circumference of the boot and wide enough to extend up the leg. Next, hot glue or sew the strips of fur fabric to the boots. Once the fur is in place, you can add any other He-Man details you like, such as red shoelaces or He-Man logos.
How Do You Make He-Man's Sword?
To start, you'll need to create the sword's blade. This can be done by cutting a length of cardboard or foam board to the desired size and shape. Once you have your blade, you'll need to cover it with aluminum foil. This will give it a shiny, metal appearance. Next, you'll need to create the hilt of the sword. This can be done by wrapping wire or yarn around a piece of cardboard or foam board. Once you're happy with the hilt, you can attach it to the blade using hot glue or Tape. Finally, you'll need to add some details to your sword. You can do this by painting it with metallic paint or adding stickers or decals.
He-Man Costumes for Men
He-Man Costumes for Kids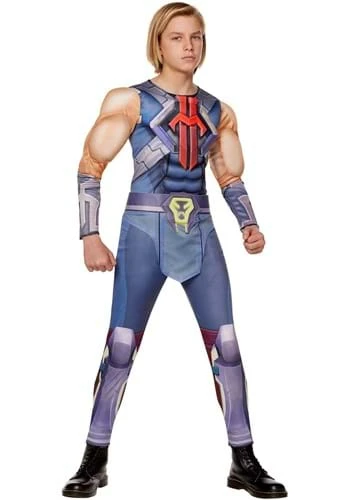 He-Man Accessories
Skeletor Costumes