Disclosure: This post may contain affiliate links, meaning we get a commission if you decide to make a purchase through our links, at no cost to you. Please read our disclosure for more info.
Last Updated on December 30, 2022 by Canny Costumes
She-Ra is a powerful and iconic character, and dressing up as her for Halloween is a great way to show your strength and style. This also makes for half a great couples costume team-up with someone dressing as He-Man. Luckily, there are a few different ways to put together a She-Ra costume that will have you looking fabulous. Make it a group costume and take the villain Skeletor with you!
For Women | For Kids | She-Ra Accessories
How Do You Dress Up as She-Ra?
One option is to start with a white tank top. You can then create She-Ra's signature arm cuffs out of craft foam or EVA foam, and add some silver details to really make them pop. For the skirt, you can either use a tutu or create one yourself out of tulle. And of course, no She-Ra costume would be complete without her memorable headpiece. You can make your own out of craft foam or cardstock. Make sure you add some red highlights to really bring She-Ra to life.
How Do You Make She-Ra's Headpiece?
To start, you'll need three pieces of cardstock, some scissors, and a stapler. Cut one piece of cardstock into a rectangular shape that will fit comfortably around your head. Then, use the other pieces of cardstock to create the tiara's wings. Once you have both pieces cut out, staple them together at the sides. Now comes the fun part – decorating your She-Ra headpiece! Glue on some jewels, sequins, or even glitter. You can also paint it with metallic paint for a more dynamic look.
How Do You Make She-Ra's Sword?
First, you'll need a few feet of aluminum tubing. You can find this at any hardware store. Once you have the tubing, you'll need to cut it into three pieces – one for the hilt, and two for the blade. Next, you'll need to shape the hilt. She-Ra's sword has a distinctive curved shape, so use a file or saw to create this shape. Once the hilt is shaped, you can attach the two pieces of tubing that will make up the blade. She-Ra's sword is also distinctive because of its red gemstone in the center of the hilt. You can find fake gemstones at any craft store, or use a red glass bead. Finally, use red paint and silver paint to add finishing touches to your sword.
She-Ra Costumes for Women
She-Ra Costumes for Kids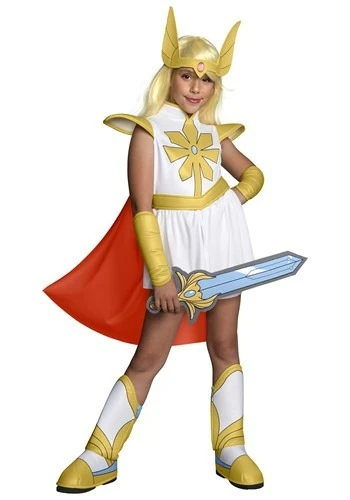 She-Ra Accessories
She-Ra Font from: Free Fonts Download