Disclosure: This post may contain affiliate links, meaning we get a commission if you decide to make a purchase through our links, at no cost to you. Please read our disclosure for more info.
Last Updated on November 26, 2023 by Canny Costumes
It is a great idea to have a Christmas party to invite your favorite friends for a fun evening. A great Christmas party involves festive themes, delicious holiday food, and a variety of entertaining activities for your guests.
Parties provide a fantastic chance to bond with others while playing team-building games and expressing your gratitude. Planning and organizing a holiday party requires work, but if you keep all of these things in mind, your guests will have a great time.
The festive season is drawing near, so start planning your party! We are here to make your party planning less demanding at this stressful time of year. This checklist will help you plan your Christmas party and ensure you have everything you need, including alcohol like ciroc watermelon, sparkling wines, and champagne, delicious food, upbeat music, and attractive decorations.
Here are a few suggestions for organizing the ideal Christmas party to ease your nerves and encourage creativity.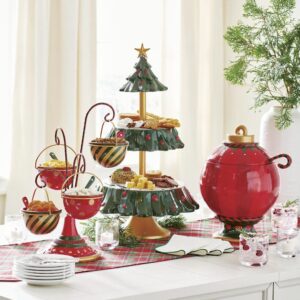 Make A Budget
Considering how much you can spend will be helpful before you begin party planning. Do you have a party fund at your worksite? Are you ready to pay some of the bills for treating your employees? Would everyone in the office be willing to contribute a little to have a more lavish party?
Once you have a realistic figure to work with, dividing the cash and deciding which expenses demand higher spending is simpler. For instance, if your staff is an adventurous bunch, you might want to spend more money on the venue than the décor.
Planning Ahead
Begin your preparations a month in advance. If you can, plan the Christmas party up to five weeks in advance. Give guests at least a week or two's notice, so they have time to make other arrangements. You do not want to have a party, and nobody can come because you did not invite them far enough in advance.
Select Date And Time
Consider your guests and select a time and date that works best for them before making significant decisions. Young adults and college students should not attend a daytime Christmas party because they need to get to bed early or because they want to hurry home. The timing of your event is important since it determines whether it will be a family-friendly or adult-only event and sets the atmosphere.
Be flexible and start by exploring the events in the area of your selected date. You can avoid dates when people are fully booked by keeping an eye on social media and interacting with members of your target group. Change your date now rather than having it clash with another event. By picking a December date earlier than everyone else, you will have a head start and more venue options.
Choose A Location
Although having your Christmas party at home is a simpler (and less expensive!) choice, you may want to consider booking a venue if you are inviting too many guests to fit into your home.
Restaurants, vineyards, a nearby museum, or even a room at a specific event place like an ice skating rink are some alternate venue options to think about.
Think about the number of guests you will invite and the required space.
When researching places, keep your budget in mind. Do not spend your entire party budget on the location because you will need to spend more on the food and décor.
Think about the space's size as well. To ensure the venue has space, you must have an estimated guest list before making a reservation. People should not feel crowded or like the venue is too spacious for the number of people attending.
Select A Theme For The Christmas Party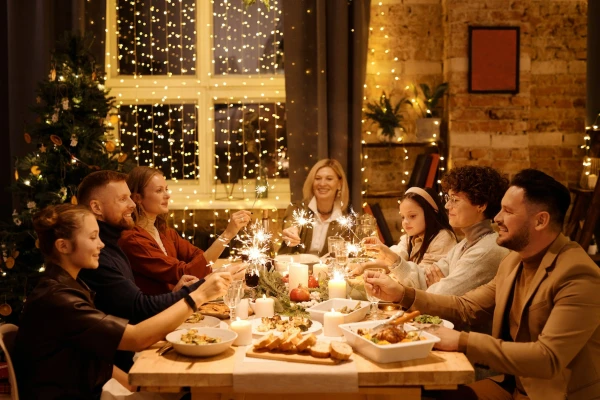 Making a theme choice for your Christmas party creates excitement. A theme aids in organizing your event and serves as inspiration for your invites, marketing collateral, stylish Christmas home decorating ideas, and entertainment.
When planning your event, keep these Christmas party themes in mind:
Traditional Christmas is all about holiday favorites, like the aroma of mulled wine and traditional Christmas music.
Think of a winter paradise with icy decorations that are all white and silver and sparkle in the candlelight.
Gather your festive sweaters or comfortable jammies for the Christmas sweater and PJs party.
Encourage guests to dress as their favorite holiday character by asking them to bring a costume. Santa, Frosty the Snowman, Rudolph, and The Grinch can be welcomed. Which guest will be named best-dressed?
A classy event is planned for the red and gold party. Make sure guests are appropriately dressed, then decorate the space.
Create a theme around cookies and cocoa parties and serve those delicious sweets.
Let the Christmas trees, gleaming ornaments, and glistening lights take center stage, oh, Christmas tree. Why not give guests a memento ornament to take home?
Plaid party: Use this vibrant Christmas pattern as tablecloths and decorations. Extra points for visitors wearing plaid!
Send Out Invites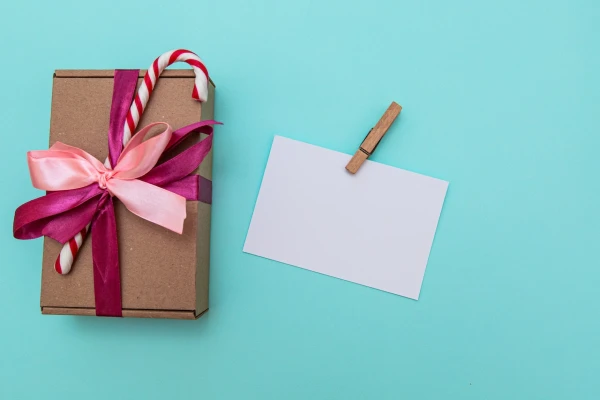 Make eye-catching Christmas party invitations once you have decided on the venue, theme, and attire to start generating hype. Your team will value receiving a well-made invitation in the mail for formal events. If your party is more laid back, you can get away with making a lovely invitation and sending it out by email or any other popular workplace communication channel.
Include important information on the invitation, such as the time and location of the event, the suggested attire, and the planned activities for guests. Include your phone number or the number of another member of your party planning team in case anyone has any queries about the event.
Discover A Fun Way To Swap Gifts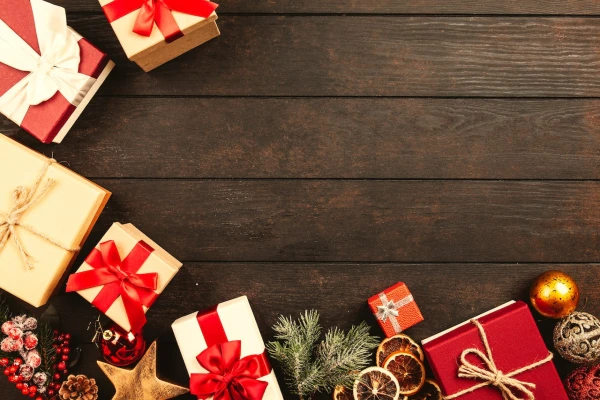 Even though it is not required, giving gifts is the ideal activity to infuse some Christmas spirit into your gathering. The two best-known gift-exchange games are White Elephant and Secret Santa.
Each participant in Secret Santa must purchase a gift for a chosen coworker whose name they randomly selected from a hat. Everybody draws a number from a hat to determine whether they would prefer a mystery gift or steal an unwrapped gift from another person during the game of "White Elephant."
Final Thoughts
There is no better way to express your gratitude to your staff than with a festive office Christmas party as the holiday season approaches. Christmas Parties offer an excellent opportunity to engage with others while playing team-building games and expressing gratitude.