Disclosure: This post may contain affiliate links, meaning we get a commission if you decide to make a purchase through our links, at no cost to you. Please read our disclosure for more info.
Last Updated on September 20, 2021 by Canny Costumes
Halloween costumes for youngsters need not be expensive; store bought, elaborate creations. Anyone can use items from around the house to create easy, adorable designs.
As soon as jack-o-lanterns and inflatable witches hit store shelves in early September, children begin talking about Halloween costumes. Check out this list for ideas that are simple enough for parents and children to make together.
1. Spooky Skeleton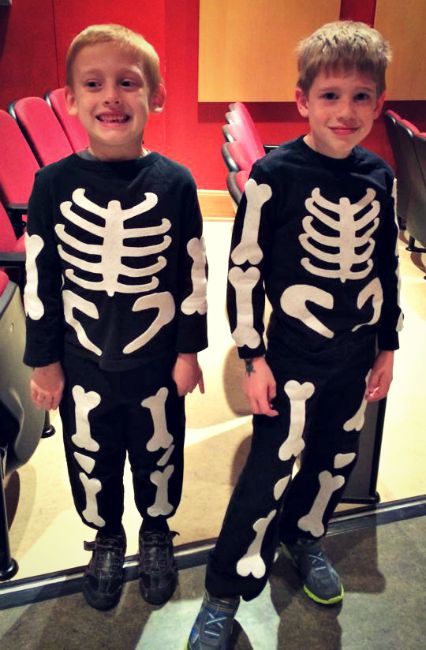 DIY Skeleton Costume Inspiration by The Little Things
Dress child in a black shirt and black pants. Trace skeleton bones onto white contact paper. Remove backing and adhere to bones directly to clothing. Black shoes and some white make-up on the face provide the finishing touches.
2. Halloween Cat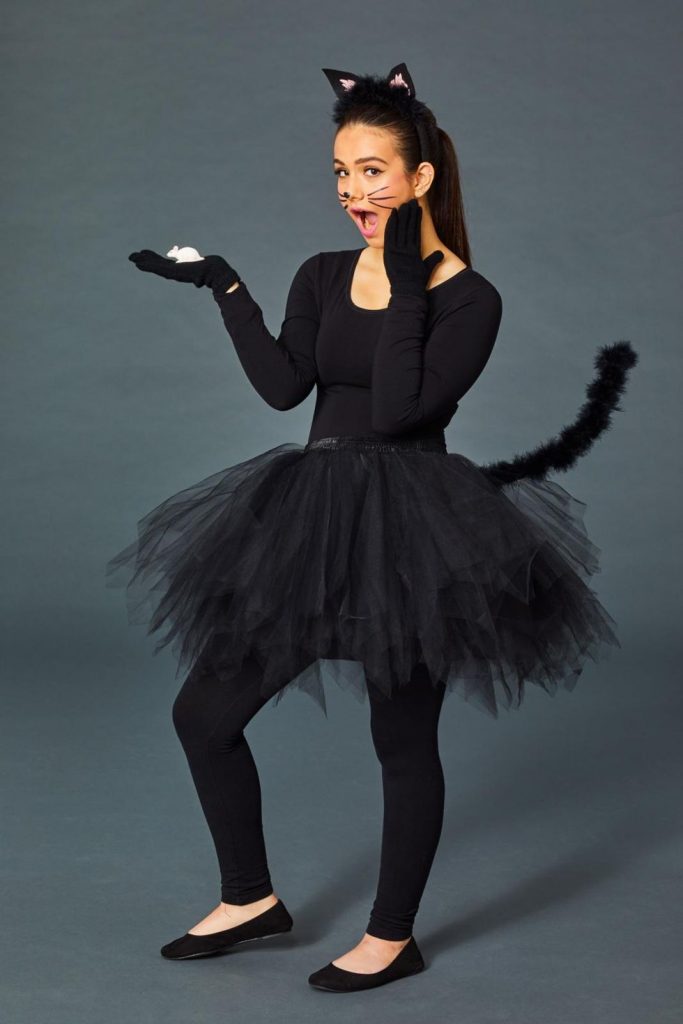 Best for Teens: Cat Halloween Costume by Good Housekeeping
Dress child (or teen or adult) in a black shirt and black pants. Create a tail using an old black stocking stuffed with store-bought stuffing, fabric scraps, feathers, or even socks. Take a black headband and attach black fabric or paper triangles for ears. Use a make-up pencil to draw whiskers directly on the person's face for a costume that's the cat's meow.
3. Gift-Wrapped Present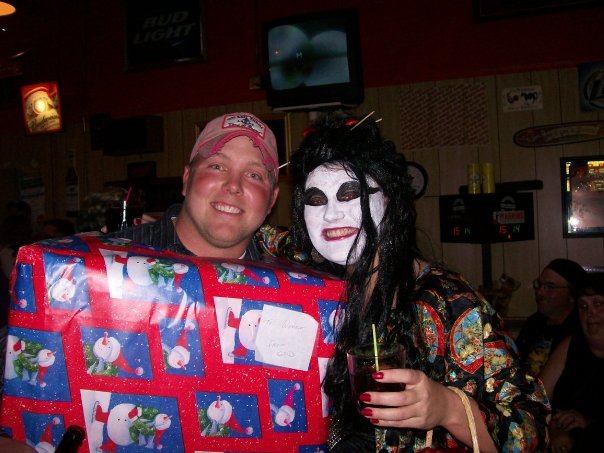 Cut holes in the top and bottom of a large packaging box. The box should rest on the shoulders and extend to the waist. Cut arm holes on either side. Wrap the box in wrapping paper of choice. Attach a large bow to a headband or a hat to top off this surprise gift.
Tip for single men: Use a tag saying To: Women From: Men (this is a play on words when men say they are "God's gift to women".
4. Table for Two
Glue a plastic table cloth to the top of a large packaging box so that it drapes. Cut holes in the top and bottom of the box so the box can rest on the shoulders and extend to the waist. Cut arm holes on either side. On the top of the box, above shoulders, glue a napkin and utensils and a cup. Affix a paper plate on the head of the child to complete the table setting.
Older children may want to adapt this costume to "Head on a Platter." A vase with dead or dried flowers and a battery-operated candle in place of the napkin, utensils, and cup will create a scary scene beside the wearer's face, which has pale make-up, dark under-eye circles, and wild hair.
5. Jack-O-Lantern
Look for orange garbage/leaf bags in the fall at home improvement stores. Often they have a jack-o-lantern face inscribed on them; if not, make a face with a marker or black paper. Cut armholes and a hole for legs. Stuff the bag with other plastic bags to give it some pouf, and tie the top of the orange bag loosely near the child's neck. A green hat made of fabric or paper will give this smiling pumpkin a stem.
6. Dirty Laundry
Cut a hole in the bottom of an old laundry basket so the basket will rest around the child's waist. Fill a basket with crumpled clothes and fabric. Adhere to a crumpled shirt or shorts to a hat to be worn around the head for the illusion that this basket is overflowing with dirty clothes.
This autumn, pull out some items from around the house. Along with some glue, scissors, and markers, parents and children can together create some inexpensive and very creative Halloween costumes.