Disclosure: This post may contain affiliate links, meaning we get a commission if you decide to make a purchase through our links, at no cost to you. Please read our disclosure for more info.
Last Updated on July 26, 2022 by Canny Costumes
Halloween is a fun holiday for both adults and kids alike. It gives adults the chance to step away from their work and spend time with their families to carve pumpkins, eat pumpkin pie, and even sneak some Halloween candy when no one's looking. Kids, of course, get the chance to dress up in their favorite Halloween costumes, go trick or treating for some sugary treats, and make jack o' lanterns while telling spooky stories over a Halloween fire.
Sometimes, thinking of a new and interesting Halloween costume idea can be a bit hard. Here are some good Halloween costumes for you to consider wearing when picking out an outfit for yourself or your kids this October season.
Fun Halloween Costumes for Boys
1. Alien Encounter Costume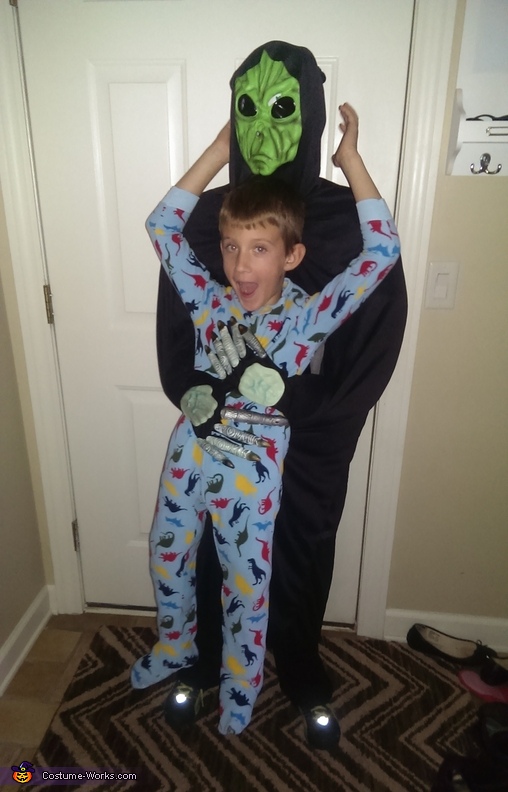 Image Source: Costume-Works
This popular Halloween outfit is a great pick for a young boy. It has a cardboard cutout of a spooky alien hovering over the child. With the alien's green arms wrapped around the kid's costume, it really looks like an alien abduction!
2. Slam Dunk Costume
According to Disney's website, this Halloween costume is a perfect pick for a boy who loves sports, especially basketball. With a basketball hoop and net attached to the front of the costume, kids and friends will be able to "shoot hoops" with a real basketball while going trick or treating this year!
Fun Halloween Costumes for Girls
1. Spa Treatment Costume
For those girls who like to take care of themselves and look good for a social event, this is a cute, easy, and homemade holiday outfit to choose from. All you need is a bathrobe, some facial cream, a pair of fuzzy slippers, and a mirror—you'll like you just got out of the spa!
2. Greek Goddess Statue Costume
What girl doesn't want to be a beautiful, Greek goddess on the Halloween holiday? This simple yet pretty outfit includes a white robe, a crown of golden, plastic leaves, and a proud presence to show everyone how great you or your little girl really is.
New Halloween Costume Ideas for Toddlers
1. Beautiful Blue Butterfly Costume
Image Credit: 100 Directions
Sometimes, finding the right fitting costume for a toddler or little one isn't easy, but this outfit is a great pick. Again according to Disney's FamilyFun.com, the beautiful butterfly costume fits girl toddlers into a pretty blue satin cloth with sparkling wings for a finishing touch.
2. Dog Walker Costume
For boys or those toddlers not happy with a butterfly outfit, another very cute idea for two is the dog walker Halloween costume. This new spin on the classic dog costume offers kids a chance to dress up as their favorite canine pet. Then, their parents or other adults can put a loose leash around their neck and take their "dogs" for a long walk trick or treating for candy! With the relaunch of 101 Dalmatians this year any Cruella inspired puppy costume is also sure to be a hit for the entire family!
New Halloween Costume Ideas for Teens
1. Lucha Libre Boxer Costume
This is a cool and relatively inexpensive outfit for teen guys to wear out on Halloween night. This macho boxing costume idea lets teenage boys wear red boxing gloves and a championship belt to show everyone they are the next fighting champion.
2. Fortune Teller Costume
For those teenage girls who like to look cute but stay a little spooky, this Fortune Teller outfit is a good choice. With a crystal ball, flowing and colorful robes, and a cute necklace of glittering chains, teen girls can "see into the future" this Halloween season!
Last-Minute Costumes for Halloween
1. Sports Player MVP Costume
For those people who wait until the last minute to pick out a Halloween outfit, not to worry! This sports player MVP outfit is easy to make at home—just throw on a pair of basketball shorts, a favorite jersey, and with some black paint under the eyes, you're ready to go trick or treating!
2. Southern Cowboy or Cowgirl Costume
This last-minute Halloween costume is great for both boys and girls. With a pair of jeans, a flannel shirt, and an optional cowboy or cowgirl hat, you can look like you just got out of the Wild, Wild West this Halloween night!
With these interesting Halloween costume ideas in mind, get out there and get your outfit soon! Armed with a fun new costume for Halloween, you'll be prepared to show off as you carve pumpkins, enjoy some pumpkin pie, and go trick or treating this October season.
Want to Buy Now Pay Later Halloween Costumes this year? Shop our list of BNPL Halloween shops for the entire family.